Sweet-Em's Cake Shoppe provides beautiful and tasteful wedding cakes to the Michiana area. Specializing in custom fondant and buttercream tiered cakes, naked cakes, trendy cakes, or whatever your heart desires. Our cake artists will work with you to make your wedding cake dreams come true.

Do you offer tastings/consultations?
Yes, we do! Tastings are available for weddings of 50 or more guests. You will meet with either Emily or Cathy to discuss designs, sizing options, flavor combinations, and pricing. You will get to sample your choice of 4-5 flavors of cake along with fillings and icings. Samples provided are for two (2) people but you are welcome to bring up to two (2) extra guests and share if you choose. An hour is set-aside for each client. Often, appointments are scheduled before and after yours so please plan to be on time so we have a full hour. Schedule your consultation
How do I schedule an appointment?
Fill out our consultation form or schedule by phone. You will want to have several dates in mind as our calendar fills up and your first choice may not be available. Typically we schedule appointments on Tuesdays and Thursdays. Times vary day by day. Saturdays are limited due to wedding cake deliveries. We will try hard to work with your schedule to find a time to meet that works for everyone.
We will need to know your wedding date, reception location and an approximate number of guests when you contact us. Also, what flavors you would like to try. You can find our cake flavors, filling flavors, and icing here.
A $25 fee to cover our time and the cost of preparing the samples is due when scheduling, If you choose to book us for your wedding that fee will go towards your deposit.
What should I bring to the tasting?
It is helpful to have made venue, color, and floral decisions prior to our meeting so we have that information available when designing your cake. Pictures of your wedding dress, reception venue, your invitations or design motif…a monogram, color swatches…a piece of jewelry that catches your eye…it can all be helpful.
The design process is definitely a collaborative effort and we'll keep exploring options until you have a design you love.
What can I expect to pay for a wedding cake? Do you have a price list?
Wedding cakes are priced per serving plus design elements. Ultimately, the final price is based on the complexity of the design and the number of people being served. The more intricate the design, the more the cake is likely to cost. We are happy to give quotes via email requests but we do not have a set "price" list.
How far in advance should I book my cake?
We are often booked 3-6 months ahead of time so the sooner the better to reserve your place on our calendar. Please note that during prime wedding season, May through October, it is not unusual for cakes to be booked one (1) year in advance for these months. We will definitely attempt to accommodate last-minute requests if our schedule allows. Please call or email to find out our availability for your date.
Do you deliver?
Yes. We do deliver, especially three (3) tier and larger wedding cakes that require special handling. The smaller two (2) tier cakes and cupcakes or sheet cakes are easily picked up and you can save the delivery /set-up fee.
Do you make faux or dummy tiers?
Many of the "expert" wedding blogs advise this is a way to save on the cost of your cake. Unfortunately, this is not the case in most situations. Because our cakes are custom decorated for each wedding couple, the majority of the cost is in the labor to create the design of the cake, which does not change regardless of whether the cake is real or faux.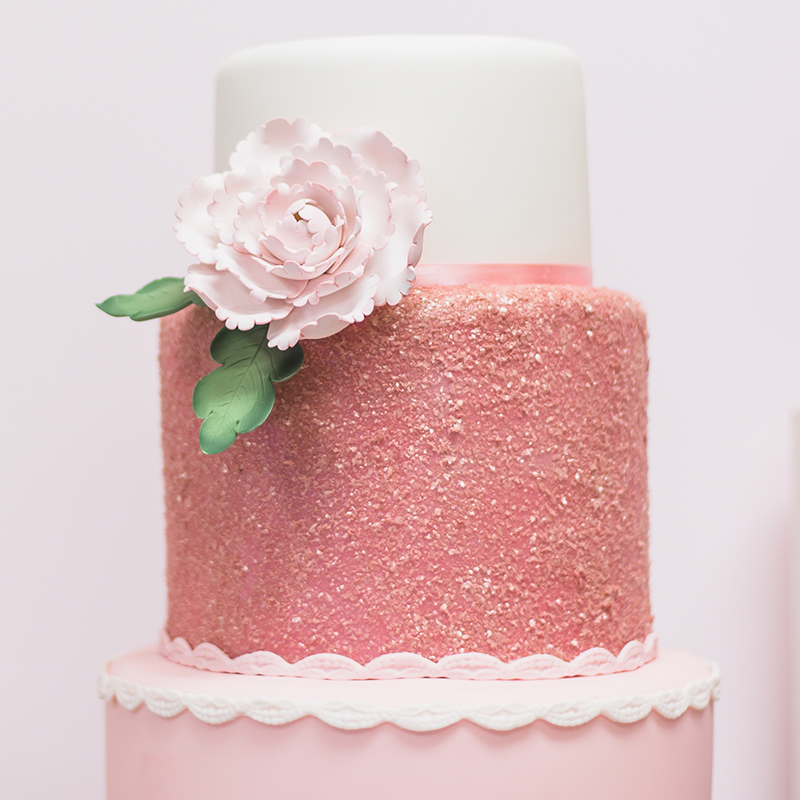 If you're looking for a wedding cake, go with Sweet-Em's. I went into the tasting telling them I only like carrot cake, but we ended up picking two other flavors, and it was hard to pick! Cathy at Sweet-Em's was wonderful to work with. We wanted a small, two-tier cake, and it was beautiful! Thank you, Sweet-Em's!
A great experience from tasting to payment to delivery! Emily was kind and walked us though every step, reminding us when we got caught up in wedding stuff. The cake is exactly as asked for and designed, delivery to the venue was affordable and timely. Guests could not say enough good. And the buttercream. A truly wonderful experience.
Beautiful Cake/Tasted Great
Sweet Ems was very easy to work with. The cake was beautiful and everyone bragged about the taste (we did chocolate and vanilla). The lighting and cake stand were beautiful…Sweet Ems worked with the flower vendor as well to add flowers to it. Exquisite cake.
Sweet-Em's did a wonderful job on our cake. They gave us exactly what we wanted, and the cake was both beautiful and delicious. The cake process was simple and stress-free. Emily was kind and flexible, and we can't recommend her more.
Wonderful tasting cake! Beautiful creations too! She made exactly what we asked her to make. It was lovely!
Eat Cake. Be Happy. Life's Sweet.